Since 1971, drummer Lee Kerslake has been the backbone of rock greats Uriah Heep. From his first early rumblings on the "Demons & Wizards" album to such latter day classics as "Sea Of Light" and "Sonic Origami", Lee has displayed an incredibly powerful style, attacking the beat with a sure hand. As one half of a formidable rhythm section that included bassist Bob Daisley, he's also the gentleman who lobbed cannon-fire from your stereo speakers in the furious intro to "Diary Of A Madman's" opening track, "Over The Mountain." Lee Kerslake, currently on holiday in Lanzarote, sat for a while to talk about his tenure with Uriah Heep, his stint with Ozzy Osbourne and more. I give you Lee Kerslake - the way that it is.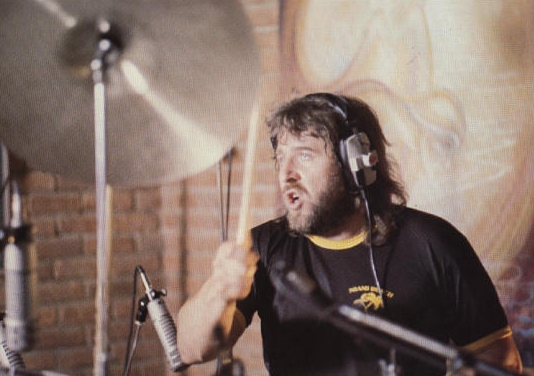 Starting way back at the beginning, when did you start playing drums?
When I was eleven years old, when I was in secondary school. I started an interest in that, and piano. But I didn't do it professionally until I was seventeen. A guy phoned me up after seeing me play with my semi-pro band, and asked me if I wanted to join the Gods. That was back in '66.
You've got a hard-hitting, rock-solid drumming style. Who were your influences?
My major influence was John Bonham. I liked Buddy Rich - I liked his drumming, for big band stuff. And I liked John because he could really get on the beat. Great guy.
Did you sing back then, as well?
Yes, I've always sung.
Did you ever have any aspirations to become a lead singer?
Only when I'm in the pub. (laughs) I like singing. There's a couple of guys here and we go to the clubs - I like to have a sing-song with them. Full band. A little bit of "Mustang Sally", "In The Midnight Hour" or a bit of blues.
Prior to Uriah Heep, you were in the Gods, Toe Fat and National Head Band. Tell me a little bit about these groups?
National Head Band was from Liverpool. They were kind of old Medieval folk with a bit of updated rock. Very, very interesting band. An unusual class band. I liked the music. It was so different. I wrote a few things with the guys. Sort of like Lindisfarne with heavy rock. Toe Fat was the aftermath of Cliff Bennett's Rebel Rousers. In fact, the name was changed just as I joined. It was good. The singer, Cliff - great voice. Great voice indeed. It was a stepping stone for me because it gave me leave to meet different players and different styles of playing. I enjoyed it. I wasn't there long before I found myself going off into the National Head Band. They got rid of me for being drunk! (laughs) The first time in my life I got drunk, I was in Scotland playing darts. I used to be pretty good in those days. I won, and when you play darts in Scotland you get a pint or a whiskey. Apparently I had about twenty-one whiskeys. (laughs)
You were good, then.
Yeah. Cost me my job.
You were part of a late-60's British music scene that spawned the likes of Colosseum, Humble Pie and John Mayall. You yourself worked with Mick Taylor, Greg Lake and John Glascock…was the English club scene a pot of talent just waiting to boil over?
The English scene was always at a boil. As you're aware, we gave America the hard rock of Zeppelin, Sabbath… We were always waiting to get connected in English music, because there was so much cross-talent. Where I was born and bred, there were major musicians Bob Fripp (King Crimson), Greg Lake (ELP), John Wetton (King Crimson/Asia) - and I consider myself somewhere in among that league. There were some fabulous musicians, but the only way we could make it was to go up to London, because it's the heart of the music industry.
When I look back at some rock bands' family trees and see group members before they went on to bigger things, I'm amazed at the talents that could be found in one band.
It'd be interesting to find out if, on a family tree of me, Ozzy'd put me on it as the drummer with Bob Daisley.
How comfortable were you with accepting Ken Hensley's offer to join Uriah Heep in 1971, given the fact that you had previously worked with both Hensley and bassist Paul Newton?
When I was offered it the first time, I turned it down. And it wasn't he (Ken Hensley) that was the deciding factor. It was when I met Mick Box. Mick and me got together down at Jubilee Studios. That was the 23rd of November, 1971. I met him there. I set my kit up, he set his guitar up and we just started playing a bit and jamming. About three-and-a-half hours later when we put our instruments down, we looked at each other and went "Fancy a beer?"
The first album you recorded with Uriah Heep, "Demons & Wizards," was also their most successful, up to that point. Why do you think it was?
Mick and others said the missing link was - they didn't have the drummer, they didn't have the harmony choral parts quite there of course I sang. I was the missing part of the key, so to speak. From then on, I wrote music as well. I wrote three songs with Mick on that album, and with David Byron. It seemed to gel when I joined. We all worked with each other.
Was the band chomping at the bit to crack America?
Oh yeah, ever so. The following year, in '72, we finished the album "Demons & Wizards" and then we went on tour with Deep Purple. It was wonderful. I'd never seen America. I'd dreamt of it, but "Wow!" It knocked me sideways. And we broke, because we were playing in 10-15,000 seaters with Deep Purple as a sort of warm-up band. We took off, and it was wonderful.
What are your thoughts about comparisons of Uriah Heep to Deep Purple?
There's no comparison. They're an incredibly heavy riff band with some of the greatest epic riffs of all time. We're a rock band with riffs, but with harmonies. We always used the harmonies to lift us into another dimension than any other bands. Black Sabbath - riff band. Deep Purple - riff band. Uriah Heep was a harmony rock band.
David Byron was a gifted singer, but his descent into alcoholism ultimately resulted in his departure from the band.
Oh bless him, God rest his soul. He was superb. As powerful and strong as he was onstage, he had his weaknesses offstage - he was a bit insecure. And we were working eleven months a year, remember. It got to us all eventually, but it got to him first. It was sad. Gary Thain, as well. It got to David, because the pressure was immense.
Could Heep have continued with Byron if he'd beaten his consumption problems, or had too much damage been done to the relationships within the band?
That's difficult to say. It's an "if" - it's that big "if" in the sky. We'll never know. I liked him - loved him a lot. It might have, it might not have - who can tell? I would have liked to put it all back together, but then we wouldn't be where we are today. So fate - the destiny of my life, meeting other people - it came to what it is.
Uriah Heep boasted several other incredible lineups in the 70's and early 80's, featuring the likes of John Wetton, Gary Thain, John Lawton, Peter Goalby and Trevor Bolder. As great as those lineups were, something was obviously amiss, and the band was somewhat fluid. What prompted your own departure following the 1979 tour?
Mine was arguments with the management. Political arguments. We were just about to do another album, and I had had enough of manager Gerry Bron and Ken Hensley siding together trying to wheedle people in and wheedle people out. Trying to run the band - the whole caboose. I just had enough. I said "I gotta get out of here. It's ripping me to pieces." I could see me getting into the heavy drinking. So I was going. I wanted to go away and prove myself. If enough times you get knocked off your confidence, it's damaging - very mentally damaging. So I decided to go. I started my own solo project with Colin Pattenden of Manfred Mann and Pete Cox, before he joined Go West. We were getting some really nice ideas together. I'd written a load of material, and I just wanted to get it across, to try to get a record deal. Next I get an agent from Germany called Ossie Hoppe. He phoned me up and said "I didn't know you're not in Uriah Heep. Do you want to join the band Ozzy Osbourne's trying to put together?" I said "I don't know. We'll audition each other." I auditioned them, and they auditioned me. It was the first time I ever heard Randy Rhoads play. I knew Bob Daisley - I knew how good Bob was. When I heard Randy, I just went "Wow!" And when he heard me, he jumped about three feet in the air. (laughs) I hit the drums and they went off like a couple of cannons and hit him in the back! He just jumped for joy. It was great. As much as they were impressed with me, I was certainly impressed with Randy and Bob.
Had you met Ozzy before?
Only briefly, in Australia. In a lift. I think it was in the Kings Cross Hotel. He was in one corner with his bodyguard and his manager, and I was in the other corner with mine. Rather funny.
What do you remember of the recording of "Blizzard Of Ozz", and the subsequent British tour?
The recording was fun, because we were left to our own devices - me, Bob, Randy and Ozzy. We had a great engineer, Max Norman. He opened us up, and with my ideas and Bob's ideas he was excellent. We just saw things come around. We all used our own experiences. I would come up with ideas from Randy's guitar part. Randy would come up with ideas for a riff, and give me a drum pattern to it. It was great. Wonderful. And the tour was excellent, because it was so tight. Professional. It was really good. I enjoyed it. As soon as we finished that English tour, things started to take flight with "Blizzard Of Ozz" and we were asked to do another one together. That's when I had the opportunity to come in with a lot more ideas. That's when I co-wrote six of the songs. I had ideas from other things I'd been writing. Plus what Randy had, and what Bob had. We put them all together. On a couple of the tracks I think we churned out two of them in about eight or nine minutes. That was the magic.
Did you start to sense any tension from Ozzy during the recording of "Diary Of A Madman"?
No, the only annoyance we had was we were trying to get them to give us the money they promised up front. We were going in, doing the album, and saying "Wait a minute. You've got a record deal. We want some money up front. We need to have some money to live off of, and get ourselves together." So we had a meeting with Don Arden and Ozzy. (Sharon Arden had phoned Don.) They said "OK, guys, you've got your deal. Now go back and finish the album." So we thought "That's great." We went away for a break, and next we found out we were out.
Were you and Bob Daisley surprised to find yourselves being fired from Ozzy's band?
Yeah! Very much. Everything was working fine. It was only when Sharon came in that we had a problem. When she started managing - taking over - she wasn't the manager until "Diary Of A Madman". Before that was her brother, David. He didn't really want to handle it. He had too much to do for Don in the office. So she came in and it started to get edgy. But we never suspected a thing until we went away on holiday. Next minute, they're rehearsing with Tommy Aldridge and Rudy Sarzo, and going to America. Ouch.
What did you think when "Diary Of A Madman" was released and your recordings were credited to Tommy Aldridge and Rudy Sarzo?
It pissed me right off. But we didn't find out until a lot later. We had that break, and then we reformed Uriah Heep with Mick Box. He phoned me up and said "Do you want to get the band back together?" I said "As long as Gerry Bron and Ken's not there, yeah." So we reformed with Bob, John Sinclair and Pete Goalby. Our minds were taken off that ("Diary Of A Madman"). We were too busy getting Uriah Heep off the ground.
No doubt you've seen and heard the recent reissues of "Blizzard" and "Diary", with their re-recorded drum and bass tracks. What are your thoughts on them?
I haven't heard the reissues. I've been told how bad it is. I think it's so sad. The audacity! Whatever we've done to deserve that, I have no idea. It doesn't make me look bad, or Bob look bad. It makes Ozzy and Sharon look terrible for doing such a destructive thing. Those first two albums have stood the test of time - twenty years - because of us (Ozzy, Randy, Lee & Bob) writing and playing them. You don't just suddenly decide after millions of copies sold "We're gonna take them off, because we don't like them." They must have their reasons. I don't know why. It's so silly. The kickback is that so many people say to me "How dare she?!"
It's like taking a Harley-Davidson and making it sound like a Yamaha. I don't know what's got into her mind - saying that we were harassing her. How can we harass her and Ozzy? We don't even know them now, except through the lawyers. We have no connection with them whatsoever. It is senseless, because at the end of the day all the fans are gonna realize…that's why suddenly I'm getting inundated with interviews.
While recording "Diary Of A Madman", and after rejoining Uriah Heep, you seemed to take more of a part in song writing. Why?
I was writing a hell of a lot of songs when I first joined Uriah Heep. I wrote over forty songs on the albums, with Mick and David. In fact, I wrote two of the hit singles - "Come Back To Me" and "Who Needs Me", which were released in Germany. Basically, I wanted to give my parts again. When we started writing again, we had some incredible material. We released "Abominog" and that was a fabulous album! It blew me away. The only thing was, it was Gerry Bron that owned the record company. He didn't have his fingers in the pie with management, but the bleedin' bum ended up being the owner of the record company. "The Way That It Is" should have been a massive hit. Funny, isn't it? It's always the management or people outside of the band. It's never the band that messes things up. Management, the agents…
Did your output have much to do with the fact that the very prolific Ken Hensley was no longer a member of Uriah Heep?
No. Not at all. I already had songs and ideas written. My confidence was back, having worked with Bob and Randy. And then taking some of the talent from "Blizzard Of Ozz" and "Diary Of A Madman" with me to reform Uriah Heep. But we had another huge influx with Mick, Pete Goalby and John Sinclair. And it proved exactly what I had said to everybody - "I'm not just a drummer. Bob's not just a bass player. We're very talented songwriters, as well." We proved it. But you can have the greatest album - another "Whiter Shade Of Pale" or "Nights In White Satin" - but if you don't get a record company or promoter behind you to sell the record, no one's gonna know of it. It happens too often.
When you and Bob Daisley joined Mick Box in the new Uriah Heep, you returned to Ridge Farm Studios, where the Ozzy albums had been recorded. Was that awkward?
No, not at all. It was very encouraging. I knew how good I could get, and how good it would be to record there. It was a bloody good album. At first, Gerry Bron expected us to write and record an album in about two weeks. (laughs) He gave us the opportunity to do it. He sent us to an impossible task, but we came up with some great songs. I had said to Mick "Let's go to Ridge Farm. You'll love the environment." What it did for me and Bob - it was so encouraging. You can break away. You could be the studio for eight hours, then maybe break away and go for a walk, or sit by the lake, or play tennis. And you won't be in an environment where you're in London, driving home through traffic every night. Half of our lives recording in Gerry Bron's studio were driving in. You've halfway destroyed your mentality from then onwards. To drive in takes hours when you're in Essex. It takes two-and-a-half hours to get into London. So you're already uptight. You're not on the ball. I said "We've got to get away." If you're gonna do an album, you want total concentration. No outside influences. You can get on with it. That's why Ridge Farm is so great.
After the disappointment of Uriah Heep and "Conquest", to go in there and prove with Bob and Randy that we had the talent…to have two albums in America go double-platinum - Crikey! It's a great feeling, knowing that you're part of it. Over here in Lanzarote, I've got a satellite TV. Little Nicky was on last night, and I was listening to myself on TV. I went "Oh, that's really cool!" (The soundtrack of) Little Nicky played "Flying High Again". I just told myself "Yeah, that's me!"
When did you get word of the crash that took the life of Randy Rhoads?
I was in Houston, Texas with Bob Daisley and Uriah Heep on March 19, 1982. We checked into the hotel and immediately went to a club in Houston called Cardies. I was already sitting at the bar when Bob Daisley came into the bar. I turned and looked at Bob and said, "Fuck, you have gone all white. What is wrong?" Bob said, "Lee, there was a plane crash this morning and Randy was in it… and he is dead." That was it. Oh God, to hear that - I just turned and cried my eyes out. Bob and me were crying our eyes out over him, cause we loved him. He was such a lovely guy. We had so much fun with him. We had magic. People like Sharon, Don and Gerry Bron - they haven't got a bloody clue. They're so devoid of it. They're good at the business. That magic was beyond belief. We were all meant to have met. It was a wonderful thing for us all to get together to turn out two of the greatest albums of all time.
The "Abominog" and "Head First" albums are very strong albums, but received somewhat lackluster response at US cash registers. How did the tours go?
In America, the same as anywhere, they will forget you. If you don't keep touring the place, you're forgotten quickly. So you've got to be hot to trot. When you get the album out, you want to tour. We were gonna get involved with Geffen, and they were gonna promote it. But Gerry Bron wouldn't sell, and the record company let us down. No one knew what Uriah Heep were doing, and no one went to see us. It was a chain reaction. The record company has to be there for you, or you don't have a chance.
So Bob left Heep in 1983?
He was offered the chance to write with Ozzy. Words, music - write the album. Sharon thought "Hang on. Let's get some of the talent back, and get Bob." Because he was a good writer. He said to me "I don't know what to do." I said "Bob, I'll tell you what to do - Go! If you're getting that kind of money to go and do an album - you've got to, mate. You've got to." You don't often get the opportunity to write another album for $50-60,000 or whatever it is. Go for it.
Has the opportunity just not been available for you two to work together again?
Bob lives in Australia. It's a long way to go for rehearsals. (laughs) We will, eventually. I've got a lot of songs that need his talent on them. I'd love to find someone like Jake E Lee to come into the fold. He likes me and Bob, and appreciates us. I know we won't get another Randy - the closest I can think of is Jake E Lee. Hopefully we can get all that together when this lawsuit thing is done, and we're sorted out.
Have you ever had the opportunity to record any sessions outside of Uriah Heep?
Yeah, I've done a few. I've produced about five bands here in Lanzarote. A Salsa band, a 30-piece band of kids with Down's Syndrome - which was wonderful, bless their hearts. I enjoyed them. They're lovely kids. The guy that was looking after them died unfortunately last year. He sold everything he had and bought this house so he could look after them. He started running short of money. We got that covered, and there's more coming in. We want to try to get the house next door and knock it together so they've got kind of like a big hotel. I did the album so they could try to earn the money to buy it, but it still hasn't come through. And the studio was taken away - I went on tour, and when I came back it was burned to the ground. A lot was destroyed - even some of my gold records from Uriah Heep. My gold discs were melted.
Uriah Heep continues to record and tour. Last year Castle Music reissued the entire back catalog, plus there have been several live CD and DVD releases. Why the resurgence in Uriah Heep's popularity?
Because we're still going. Most bands of our age, after thirty years, would be broken up, retired or dead. We're still there. That was brought to my attention last year. I questioned it, the same as you. No matter how big or small, we're still playing. Unfortunately, we're trying to get the record companies to - if they're going to do all that don't half-heartedly do it. Put the posters out. They're not doing the advertising. They're too cheap. That's typical. They don't commit themselves.
What prompted Heep's reunion with Ken Hensley and John Lawton for the "Magician's Birthday Party" concert?
We were asked to do that. The record company wanted to do a one-off revival of the "Magician's Birthday". So they thought to bring those two in might be a nice lift for the old fans. Sort of "Great! They're back!" That was the only reason. It was great. Our differences are gone. I said to Ken "Forget our differences." My life changed when I was down in Manhattan and saw that second plane hit the tower. I looked up, saw it hit and my life changed from then on. Life is short. Forget differences. I can't be bothered.
Uriah Heep has been around for an incredible 32 years, the past 15 of those with the present lineup. How long does it continue?
How long is a piece of string? If someone had said said to me fifteen years ago that I'd still be doing this now I'd have said "Bullshit - no way". I'm still doing it. The day I start not liking it, I'll quit. I'm enjoying it. Anybody who's honest with themselves - when they hate doing it, stop.
Recent releases like "Sea Of Light" and "Sonic Origami" sound more vital than ever.
Yeah, they're going a different way, but I still hear riffs. They're beautiful albums. I'm still waiting for the riff that knocks me cold. Whether that's gonna come back in mate, I don't know. That's still my style of music. That's still the way that me and Bob like to hear songs - the ultimate riff.
You've recorded so much - do you have favorite?
No. My favorite is the new one. You give your best with that, and if that doesn't work you then you go to the next new one. So I always say the new one's my favorite.
You're still close friends with Bob Daisley, obviously…
He's a lovely guy. Honest guy. He takes time out for you. He's very into listening to people. He's very thoughtful, and incredibly talented.
We look forward to hearing you record together at some point in the future. I hope that comes to pass. As I finished up by asking Bob previously - what is your drink of choice?
My drink of absolute top number? 1992-93 Dom Perignon. Behind that, Grand Marnier coffee. It's a strong black coffee with Grand Marnier in it, and ice cold double-thick cream. They're my two choice drinks. Dom Perignon, I love - I just can't afford it. (laughs)
Mr. Lee Kerslake, it's been a thrill and I appreciate you taking the time to talk.
Aw, thanks mate! My pleasure.
Cheers to you, then.
Bless your heart. Thank you very much.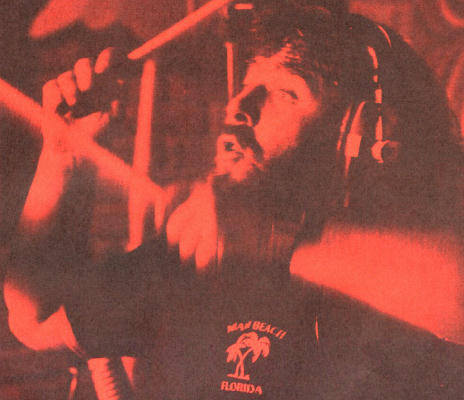 Interview by Todd Seely for The Fuze • 20th May 2002